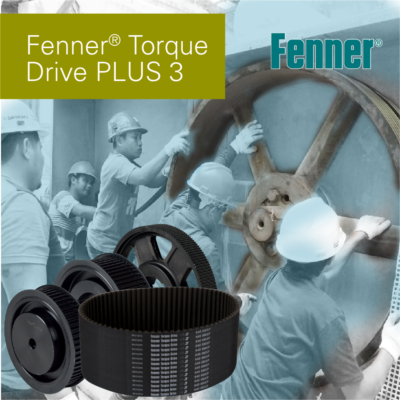 A Question of Timing
4 March, 2020
98% of belt failures are the result of incorrect selection or poor installation or maintenance. So maybe it's time to forget friction belts and chose timing belts – which can be maintenance-free for life. - Gary Price (Fenner Europe)
A Question Of Timing
Though friction belts are the traditional choice, engineers are coming to realise that timing belts have several advantages in many applications. Not least the fact that friction belts and pulleys wear during use, so need retensioning 3-4 times during their average three-year lifetime. Each retensioning demands downtime, and also leads to a drop in efficiency.
"Fitted, Tensioned and Forgotten"
Fenner Timing belts, on the other hand, can be fitted, tensioned, and forgotten. They never need re-tensioning, and maintain 98-99% efficiency for their whole three-year design life.
For new applications, it can make financial sense to choose timing rather than friction belts. But if you're already using friction belts in an existing application, you may be wondering if you can justify the cost of changing to timing belts.
The real question is: can you justify the cost of not switching?
Three Times Better
Belt drives are a relatively low-cost, easily replaceable, yet crucial component. So it's essential to specify the correct belt for the application and the operating environment, to reduce the risk of failure and optimise performance.
Specify the wrong belt and even installed correctly and maintained perfectly it won't perform efficiently or effectively and won't last as long as it should.
"Timing Belts Offer Three Key Advantages"
Fenner timing belts offer three key advantages. Firstly, reliability. Secondly, excellent performance. And thirdly, efficiency. They also offer specific advantages for specific applications.
For example, a food and beverage manufacturer was having difficulties with repeated failures of a chain drive. The need to use oil on the chain caused hygiene issues, frequent washdowns washed out the lubrication, and the wide temperature variations within the factory – from 20° during idle times to 2° during production – were causing problems with the chain.
Switching to a timing belt solved all the problems: reducing breakdowns and maintenance and – as an added benefit – lowering ambient noise levels.
Fenner timing belts are better suited than chains to a wide range of operating conditions, such as high humidity, or arduous, dusty environments such as quarries or flour mills.
Payback Time
Converting your friction or chain drives to timing belts can be straightforward. A drop-in replacement will immediately start to improve efficiency, as well as eliminating the need for retensioning. If you choose a timing belt you will also need to replace the pulley – but that could lead to additional gains. For example, one timing belt can deliver the same power as five friction belts, saving on pulleys and space.
"Payback in just 3-4 months"
In most cases the reduced maintenance costs, reduced downtime and lower energy requirements should provide payback in just 3-4 months. And that's the financial return only.
The quieter running of a timing belt also leads to a better working environment, and reduced maintenance around heavy rotating equipment means lower health and safety risks too.
But whether you opt to save money and increase efficiency by choosing Fenner timing belts, or you stick with friction belts for the time being, be sure to follow the Best Practice outlined below to optimise their efficiency.
Article by Gary Price (Fenner Europe)

Took 0 milliseconds
Contact Us
Address:

29 Changi South Ave 2, level 4, Singapore 486444

Phone: +65 65456630

Email: sales@fpt.com.sg